Company
20 years of passion for the world of bees
philosophy
Passion for bees
And your Lord inspired to the bee, "Take for yourself among the mountains, houses, and among the trees and [in] that which they construct. There emerges from their bellies a drink, varying in colours, in which there is healing for people. Indeed in that is a sign for a people who give thought. [Quran XVI. An-Nahl, 68-69].

These are the words, Armando, CEO of Al Naturale, uses to describe the importance of what  Bees are to him. His love for beekeeping started at age 23 when he decided to buy four hives, that he kept close to his home in Varena, Val di Fiemme. After this first experience, he became hooked with his beehive and learnt important lessons from these incredible insects, mostly the importance of team work and how they put the hive's well-being before their own. 
After this first glimpse of the bee world, Armando wanted to share his experience with others and made it his goal to learn and develop bee hive's products that can improve our wellbeing.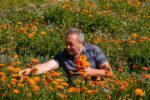 '90 and 2000
The first steps
Amiweb, is the first step toward his goal. He started a virtual platform to commercialize natural products. In the late 90's Armando flies to Havana, and after meeting the leaders of the Ministry of Agriculture, he started importing Spirulina from Cuba to Italy, an algae that has many beneficial properties. 
At first he partners with a well-known Italian company to process spirulina, and thanks to this collaboration he gets closer to the beneficial properties of Bee hive products. He opens a herbal store in Cavalese and participates in events, open markets around town and for the first time has a stand at the Christmas market in Levico, where he gets positive feedback from his clients that appreciate his propolis, balsamic honey, and cough syrup. 
25th december 2005
Al Naturale birth
Good products but always room for improvement! Armando decides that it was time to make his own products, where he would create formulas to best enhance the hive's properties. Therefore, thanks to a friend's advice he finally opens a  herbal laboratory.
With great joy, on the 23rd December of 2005, Al Naturale was inaugurated in Tesero, a wonderful Christmas present indeed!
experience and satisfied customers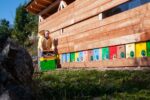 Nowadays
Maso delle Erbe and BeeSalus
At first, Al Naturale was site of production and wholesales. After 2012, the acquisition of new pieces of land,  led to Maso delle Erbe, a bee farm, open to children and families that want to get a closer glimpse of the bees that also includes a retail selling point.
The ramification of his business and the specialization of his products lead Armando to further develop Bee Salus, an ambitious and innovative project that brings together bee therapy and its practical  implementation targeted for professionals in the sector. 
Al Naturale has grown over the years and has evolved on various levels. The company gave its best under difficult events such as the propolis crisis of 2010, caused by a well-known company that distributed contaminated propolis on the market, or the pandemic year of 2020. Covid crisis brought most companies to their knees, but despite the worldwide crisis, Al Naturale kept its ground investing on personnel and important collaborations such as with Federsalus, Confindustria Trento, and ICE.
Armando's ambition has led the company to expand and the dream of incrementing production is finally close. The new establishment will have the capacity of producing up to 10.000 pieces per day between food supplements and cosmetics and store over 250 pallets. 
Past, present and future? Who knows? Armando's dream is to create a network to share knowledge and experiences on natural products and collaborate with companies that believe in the same values. The journey continues… 
Al Naturale laboratory work every day to guarantee